Hi ,
All New Member and My refs All of them Have a Single Q in their Mind ..
How to withdraw ?
Here is the Answer .. for this Question ..
Firstly In your profile above your balance click the money sign and you will be taken to your withdraw profile. ..
Secondly Do what in this Image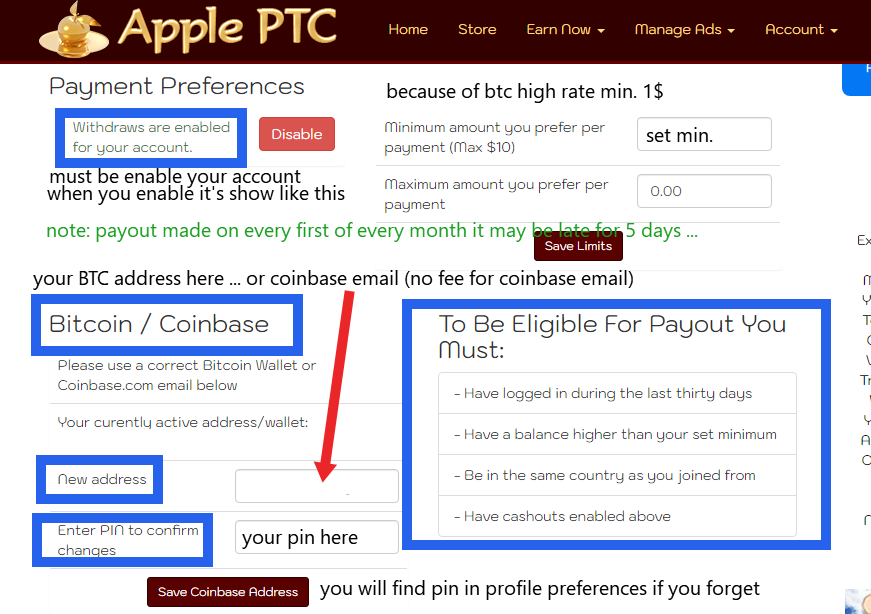 FAQ'S that you have not read .. about payments
How do I request my payment?
You do not manually request payment at ApplePTC. In your withdraw profile you provide your payment address, your minimum preferred amount and your maximum preferred amount, from there the rest is done for you. You may disable payments for your account should you need to in your withdraw profile as well.
When are payments made?
There is no set time, it depends on many factors including admin availability. As of January of 2020 payments will be made around the beginning of each month for all accounts that have filled in their withdraw profile and have cashouts enabled.
IF you had any Doubts about ApplePTC so, YOU have not read About Us page yet .
https://appleptc.info/index.php?view=about